Your link to the editorial department — Our Editor-in-Chief, Roberta Tennant, will respond to suggestions, questions, comments, and requests
for information about Writing, Publishing, and the Independent Press. She would like to hear from you, whether you are just thinking about writing a
book or have a manuscript in hand.
"I'd enjoy exploring topics of mutual interest, learning from other authors/publishers, and
sharing with you the insights, ideas, and information I've gathered in the last thirty-five
years of Writing and Independent Publishing."

Free Sample Edit:
If you would like a sample edit and response to your manuscript at no cost or obligation, send 5 double-spaced, numbered pages with 1-inch margins as
a Microsoft Word or Rich Text attachment, in Courier 12 point type, to Falconbooks@FalconBooks.com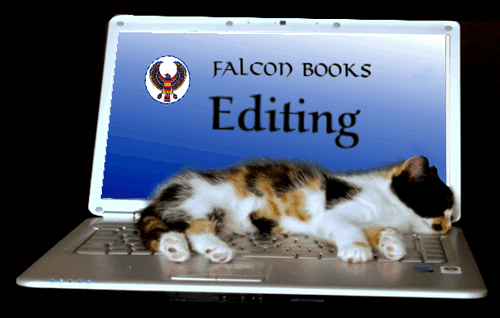 OUR GOAL IS TO SEE YOUR BOOK IN PRINT AND TO HELP YOU REACH READERS!


Roberta Tennant, Editor, has edited over one hundred-fifty books for Falcon Books Independent Publishing. Her editing is writer-friendly. She strives
for correctness in grammar and punctuation, making suggestions that in her opinion will enhance the finished book. At the same time, she respects the
integrity of an author's unique style and diction. No changes will ever be made without the express approval of the author.
All editorial comments are made as suggestions, to be implemented at the discretion of the author/publisher. As an author and publisher herself,
Roberta has a deep appreciation for the process of creating a book, from writing the manuscript, to editing, to seeing the completed book.
She edits with great care and dedication, because she understands how important it is to feel that the manuscript is as close to perfect as
possible, before it is printed. If there is any doubt about a fact or a plot point or a grammatical question, it will be brought to the author's attention.
Roberta has written three novels, six novellas, and a book of poetry, all of which have been produced by Falcon Books and are featured on this website.
She holds a Bachelor of Arts Degree in English Literature from the University of California at Berkeley and a
Master's Degree in English from California State University, East Bay.


Editing Information and procedures:
In editing manuscripts, we cover such subjects as grammar, typographical errors, punctuation, plot structure, character development,
and consistency.
In responding to a manuscript, we focus on strengths, while being careful to identify any issues which might detract from the clarity,
impact, and communication of ideas in the written words.
We suggest only those changes which are considered truly important because we respect the integrity of each author's work.
We recognize the unique value of each writer's personal vision. Each author has the final say on whether or not to accept editing
recommendations.

If you would like a sample edit at no cost or obligation, send 5 double-spaced, numbered pages as a Microsoft Word attachment,
in Courier 12 point type, to Falconbooks@Falcon-Books.com
If you decide that you wish to utilize our Editing Services, please contact us at 888-922-0789 to obtain an estimate. We will need a
full word count of the Manuscript in order to provide an estimate of Editing costs.

Once arrangements are made with Falcon Books, you may send your manuscript as a Microsoft Word attachment, in Courier 12 point
type, pages numbered and double-spaced, to Falconbooks@Falcon-Books.com
Suggestions are highlighted in the manuscript. You, the Author, have the option of accepting or declining these suggestions.
The time required to edit your manuscript will depend upon the length and complexity of the text. When we provide the Editing fee
quotation we will also give you an estimated date of completion.
While editing and proof-reading are done very carefully at Falcon Books, each Author/Publisher is responsible for reading and
certifying the accuracy of the final galley proof.
While we will scan your manuscript with the MSW spell check program, we cannot guarantee to correct misspellings of Proper
Names of people, places, organizations, etc.
We also cannot be responsible for spelling of Foreign Words, Technical Terms, and other unusual items which may appear in the MS.

Your Editor will respond to each manuscript with a Literary Review, at no extra charge. This Review may be used in part or in whole in
any promotional material, such as the back cover, as a preface, in a website, in flyers, and in letters to Distributors, Media, and Reviewers.
We hope that this information has been helpful in your decision-making, and we look forward to working with you on your writing
and publishing project! We will be available for phone, email or written consultation at no charge before, during and after your book is in print.